The Daintree Rainforest, a story of encounters
3 min read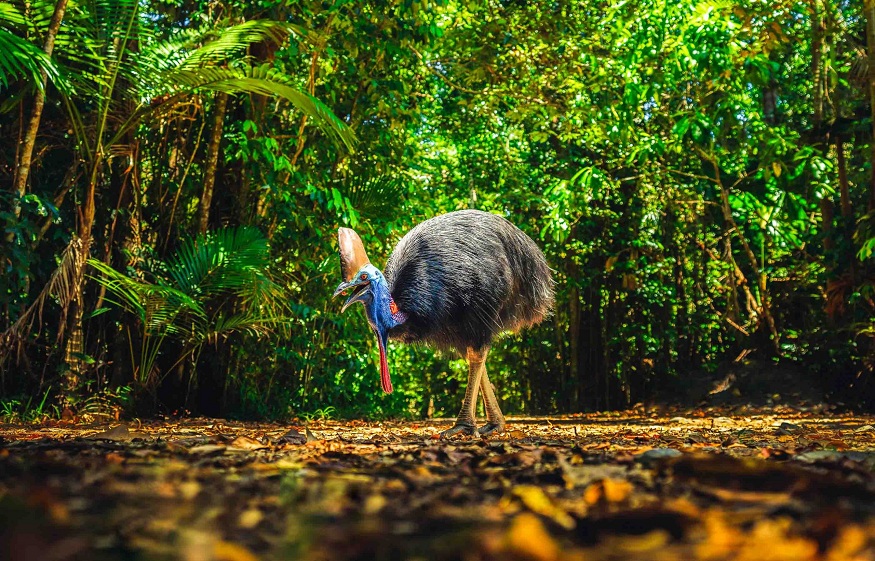 Located in northern Queensland, the Daintree Rainforest is one of Australia's green lungs . What is less known is that at 125 million years old, it is the oldest forest in the world, much older than the Amazon rainforest. From Cairns to Cape Tribulation, I went to meet those who venerate and inhabit this environment as exceptional as it is hostile. A landscape that is totally different from the paradise beach of Whitehaven beach .
The tropical forest, a hostile and extraordinary environment
Historically land of the Aborigines, the Daintree rainforest is home to dense flora in a naturally very organized disorder and where 2/3 of the Australian fauna lives. I find myself there, for a few days, in the heart of an exceptional but hostile environment . Snakes, spiders, frogs, crocodiles, cassowaries, only dangerous animals against which you have to be very careful.
Meet the Aborigines of the Mossman Gorge
From Cairns, I climb north towards Mossman Gorge. There I meet Roy Gibson, the initiator of the center and creator of the dreamtime walks of the small Yalanji Aboriginal community .
When I was little, I made cabins in this forest so I thought that I could do something with the lands of our community. Not for me, oh no. For children, offering them a job, a future and allowing visitors to the Daintree Rainforest to discover the traditions of Aboriginal culture
Roy Gibson, creator of the dreamtime walks in the heart of Mossman Gorge in Queensland #australia
To be very honest, I went to this visit a bit reluctantly. Aboriginal culture is fascinating  but I often fear, with this kind of place, that the idea of ​​its discovery is transformed into something resembling a zoo. I was quickly reassured. There is nothing industrial behind the Mossman Gorge Center, just a project created for the good of a community and the desire to share their dream time.
Light games in the Daintree Rainforest #queensland #australia
Dreamtime is a philosophy, a religion, a way of life or just their ancestral way of living with nature, respecting the spirits of the ancestors who inhabit it and listening to it live. Everything is very mystical in Aboriginal culture, so you have to meet it just to try to understand it.
Roy Gibson speaks Yalanji fluently but his sad observation is that his language is dying out. He created this center to maintain the culture and provide employment for the young (and not so young) of his community. His next project: to launch yalanji lessons to bring some life back to this language so that it does not die out with the few people who still know how to handle its words.
Daintree Rainforest road trip #queensland #australia
This visit made me want to reread Bruce Chatwin's Song of the Tracks , a book I read 26 years ago when I returned from my year in Australia. He tells how this aboriginal people, a people of nomads, lived and ventured in nature following imaginary lines drawn by the spirits of their ancestors.
Face to face with a family of cassowaries
After this visit, I resumed my journey towards the north. A ferry to cross the Daintree River (full of crocs) and here I am in the heart of the primary forest. A small road runs along the Pacific Ocean. The Daintree rainforest is now classified as a national park so nothing will destroy it with other constructions than the few that already exist. The road up to Cape Tribulation winds through the forest. The sun's rays are blocked by the treetops. I stop at the  Daintree heritage lodge  for two nights.
After putting my suitcase in my room, I go down to the small creek located below the restaurant and I find myself face to face with a family of cassowaries, an animal that I have dreamed of seeing in the wild for years. Since my world tour actually when I went to Mission beach and someone told me to drive carefully because I could cross some. Of course, I hadn't seen any at the time.
And there it is, dreaming of it but without hoping for it, I find myself face to face with a father and his little one. Ah yes because I have to tell you a bit about the life of this beast…