10 things to know before visiting Phuket
5 min read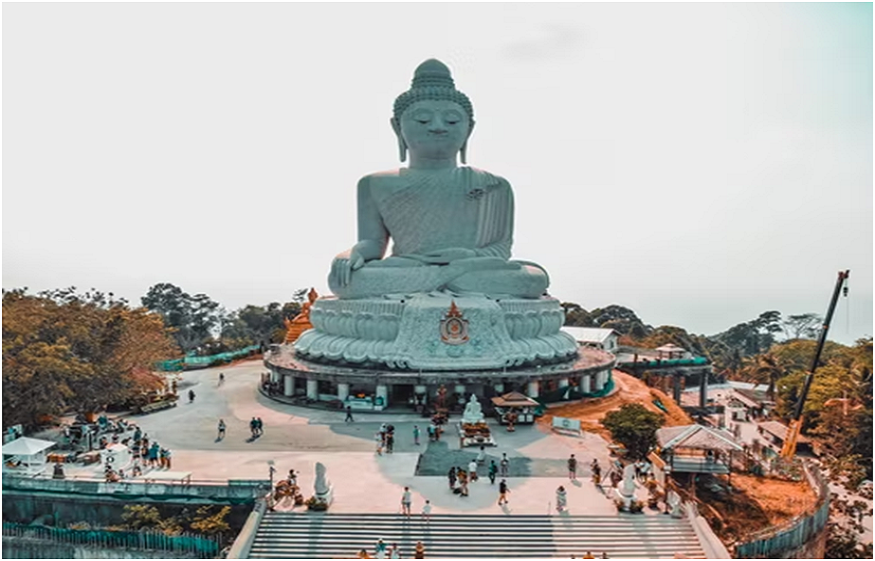 If you're going to a destination you've never been to, it's wise and safe to say that you need to investigate the location before you arrive. Be it weather, seasons, currencies, people, as well as transportation and driving styles. If Phuket is next on your list, it is a wonderful tropical paradise in Thailand for travelers from all over the world and is known for its sandy beaches, warm seas, lots of sunlight, some notes, and attention. Before visiting Phuket, Thailand, here are the 10 most important things you should be aware of.
1. Humidity
Regardless of the size, Phuket is an island in a tropical country. Therefore, humidity should be expected. On weekdays, the average temperature in Phuket is around 30 degrees Celsius, but the high humidity makes it feel even more uncomfortable. It may be a little tricky at first, but with plenty of water and proper clothing, you will feel completely comfortable. You can check out the country's website for more details before booking your Phuket tour package.
2. Rain
Tropical islands always have sunshine and rainy days, and Phuket is no exception. Phuket is not so harsh, so the island is a "year-round" destination where you can travel all year round. There may be storms, but that's a normal situation for tropical islands. However, there are other places to visit, if you don't like your beach vacation when it gets wet in the rain. Remember not to travel to Phuket as September and October are the rainiest months of the year. Apart from this, there might be some thunderstorms during May due to the monsoon influence. But you may still take advantage of lots of sunshine.
3. The National and Royal Anthems
The Thai National Anthem may occasionally be played in public spaces. The Royal Anthem could play while you're at a gathering, function, or even at the Phuket movie theatre. Do as the Romans do while you are in Rome. This is applicable in all places. You can follow the Thai by paying homage. Often this is done by standing still between the national anthem and the royal hymn.
4. Health and stuff
When you are in Phuket, be careful not to drink from the faucet. Use only bottled water. Ice can be used for drinks at hotels and other accommodations. Made with clean water, it is completely safe to add ice cubes to your drink. Dengue fever occurs in Phuket, but malaria is very rare but less common. However, you should use insect repellent to prevent mosquito bites. Drugs are not safe in Phuket. Penalties for such violations can be disadvantageous. Accidents often occur in the city, but it is completely safe if you are careful on the street.
5. Local customs and etiquette
If you plan to visit the temple, be sure to wear what is acceptable to the place. Cover your shoulders and get dressed. While in Phuket, it should be noted that Thai social culture is very different from the more direct European and Western cultures. Thailand's beliefs, norms, values​​, and etiquette are also a little different from other Asian countries. Thais are warmer, more forgiving, and kinder than most countries. And a nice big smile is also a great way to grab your heart, regain your smile, and spread a tense situation.
6. Nightlife
For travelers that love to party, Phuket has a fantastic nightlife. Quip Sky Bar, a rooftop bar with amazing city views, is a well-liked gathering location. With its 4 bars, 2 pools, and music, Dream Beach Club mixes water and entertainment. Live music places for any taste can be found all across Patong. Night markets provide the best deals, the cheapest food, and frequently live entertainment for those seeking something a little different. The splendor and breathtaking visual effects of the cultural performances of Siam Niramit should not be missed. Or go to Phuket's renowned Fantasea theme park. Visitors must go to this enormous park to view its distinctive features.
7. Family-friendly
With so many family-friendly resorts, Phuket is a fantastic destination for the whole family. There are many family-friendly attractions, safe beaches, and tropical weather there. You may spend your entire time enjoying the beaches with them having white sand and crystal-clear water around. But if you're looking for more, there are day cruises, theme parks, water parks, ziplining, and other opportunities to interact with elephants. Trust that your entire family will love their visit because there is so much to do.
8. Duration of stay
Two days will do if all you want to do is experience Phuket. However, most visitors choose to stay for at least 7 days. By spending 3 days in Phuket City and 4 days in Patong Beach, you may split up your trip. No matter how long you stay, there is always something to do and see.
9. Transportation
It's simple to go to Phuket. In Phuket, Thailand, there are hotels and restaurants close to the beaches, and most beaches are modest enough to walk about. A tuk-tuk is a good option for short journeys if you need transportation. You can also take a local bus, a taxi, a motorbike taxi, or rent a car or motorcycle. Daily boat tours of the islands are also available. Patong is the top tourist attraction due to its abundance of stunning white sand beaches, clear waterways, and tropical climate. There is something for everyone to enjoy, including island hopping, beach activities, tanning, nightlife, theme parks, and water parks.
10. Where to Eat
Restaurant and Cafe Tips Honestly, Phuket's food offerings are so huge and diverse that they are overwhelming. Many restaurants (especially near hotels) are very touristy (this doesn't have to be a bad thing). The majority of the eateries on the island cater to tourists because Phuket has grown to be such a well-liked travel destination. There are many Thai restaurants, however, most of them serve blander versions of the cuisine to appeal to western tastes.
Hope you noted all the tips. Have a great Phuket holiday with Pickyourtrail. So, book your packages soon to grab the amazing offers!