Bangkok Hidden Gems Locals Love
5 min read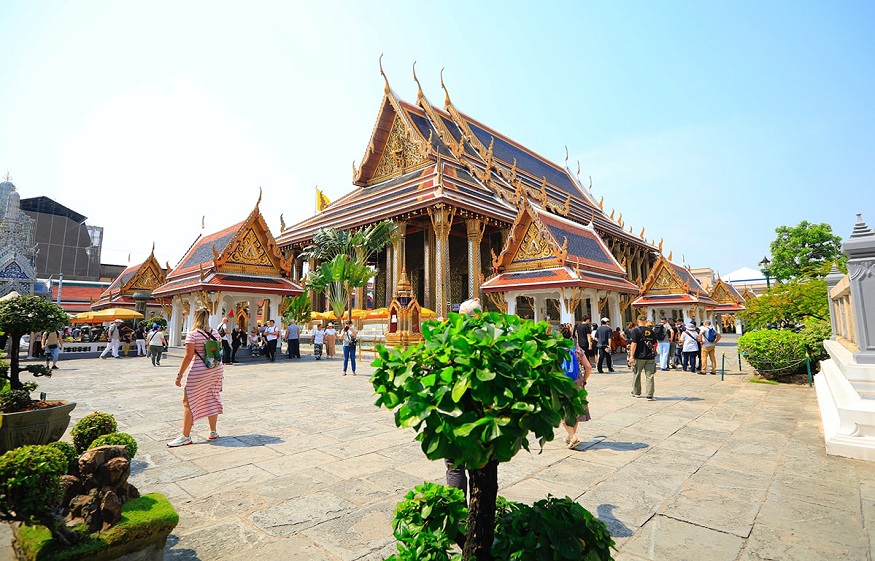 Once you've explored Khao San Road and devoured your fill of street food, venture off the beaten path to discover these jaw-dropping hidden gems – from cat cafes to airplane graveyards – that will surprise and delight!
This Golden Buddha stands out from all other temples – it's entirely made out of gold and weighs 5 1/2 tons! Cathay Pacific offers great deals for Cebu to Bangkok flights.
1. Erawan Museum
This one-of-a-kind museum was conceptualized and constructed by Lek Viriyapant to house his priceless collection of ancient religious objects. Airavata, Hindu god Indra's mount is featured here – making this installation truly unparalleled! The world record hand-carved statue stands 18ft tall!
Massive yet impressive, it stands 29 meters high and 39 meters long weighing 250 tons – one of Bangkok's most memorable and intriguing museums that is well worth a visit!
Erawan Museum is an expansive pink structure featuring curving stairways and zodiac glass ceilings, divided into three levels representing Earth, Heaven and Underworld. On each level are numerous art pieces and antiques which illuminate Thailand's religious past.
Erawan Museum provides visitors with an insight into Thailand's vast history and culture, providing you with an introduction to Thai history and society as a whole. You will likely become more informed on their history, their customs, beliefs and customs after visiting. Located just south of Bangkok in Samut Prakan, getting there requires taking BTS Skytrain followed by taxi or Uber/Grab service to reach this location.
As part of your visit to Erawan Museum, be sure to explore its gardens – you'll find rare plants and Thai mythological figurines here as well as a pond filled with freshwater carp which you can feed!
Visit the Erawan Museum early morning hours to avoid crowds. Additionally, bring along your camera so you can capture some stunning photographs!
Erawan Museum offers much to discover, so give yourself plenty of time for exploration. When hunger strikes after visiting, nearby eateries offer delicious cuisine; Kuay Tiew Nai Roi serves delicious chicken noodle soup and Sanctuary PAKNAM is known for its adorable decor with Cat Renaissance paintings adorning its walls.
2. Airplane Graveyard
Bangkok boasts no shortage of exquisite sights to see, from the Grand Palace and Wat Arun to Grand Hyatt or Chatuchuk Market. But this vibrant city also hosts numerous lesser known sights that are equally captivating; such as some delicious street food vendors or an airplane graveyard. Here are our recommendations of off-the-beaten-path travel spots you should discover during your trip to Bangkok.
The Airplane Graveyard in Bangkok is one of those unique experiences that truly makes you gasp in amazement! Situated a bit outside of town, this bizarre spot boasts an enormous collection of old airplanes in varying states of disrepair; some even missing wings altogether; yet still an incredible sight to behold. Though visitors must pay an entry fee to access, if you're seeking unique photo opps and memorable experiences then this unique venue shouldn't be missed out on.
UFO Temple, commonly referred to in Bangkok as one of its lesser-known tourist spots. Situated in Chinatown district and named for its otherworldly appearance that looks like something out of an alien film, this golden temple can also serve up some delicious Chinese food! While getting there may require extra effort and some walking, this unique and rare Bangkok landmark will definitely pay dividends!
3. Chang Chui Creative Park
Chang Chui Park in Thonburi offers events spaces, restaurants, art galleries, and much more besides. One notable feature of Chang Chui is an L-1011 TriStar Lockheed plane parked at its center; this spot was built to offer locals and visitors alike an enjoyable shopping, dining, and entertainment experience all under one roof.
Chang Chui offers something for every spiritual or skeptical mind – whether you hold secret superstitions or don't – with its massive amulet market offering cultural sights, sounds and smells; hundreds of merchants selling all manner of amulets, charms and magical potions designed to bring good luck and fortune – be sure to show your respect by wearing long pants and taking off your shoes as you enter this sacred site!
If you are seeking out something unique for entertainment, visit Baan Silapin (Elephant Village). With live theatre and music performances that rival anything seen before, it offers an intimate glimpse into Thai culture. Shows run late evening through early morning; tickets can be bought either online or at the venue itself.
Benchasiri Park offers the ideal place to unwind from city life with its lush piece of greenery, full of Thai flowers and botanicals as well as an idylic lake that features turtles and other fish – providing visitors with a relaxing environment perfect for picnics or running along its banks.
Park West is also an excellent place to visit if you want to see some of the city's more impressive and iconic temples; as it houses several. Joggers will appreciate its scenic paths while watching three times daily fountain shows that delight both locals and tourists. Plus there is even a miniature train that tours through the park – perfect for children as well!
4. Double Dog Tea Room
Though popular sights such as The Grand Palace, Wat Arun, and Royal Museum are must-sees in Bangkok, lesser-known attractions can provide just as much fascination. We've selected some of our favourite hidden gems in Thailand's capital:
Double Dog Tea Room offers the ideal place for shoppers and travelers who have become tired from exploring Chinatown to unwind and recharge, away from the busy streets of Yaowarat and Yaosanat. Here you'll find specialty loose leaf tea imported directly from Germany ranging from green matcha and blue Da Hong Pao, to oolong and pu-erh, served in classic ceramic teapots or bone china cups with leaves still inside them – perfect for pairing with German pastries and brunches for an unforgettable afternoon in Bangkok!
Benjakitti Park Forest Trails offer photographers a treat. Being the first of their kind in Bangkok, this collection of elevated walkways and cycle paths are filled with lush trees and plants for a peaceful escape from Bangkok's hectic pace below. There are even dedicated spaces for yoga and meditation sessions so visitors can recharge while taking in its natural beauty.
Attractions to Chinatown for travellers who seek an immersive street food experience and shopping local markets may include Chinese Restaurants, markets, and markets; however, its chaotic and overcrowded atmosphere may become tiring after awhile. At Double Dog Tea Room you will find an oasis of calm amongst all this bustle offering delectable loose leaf teas and sweet homemade sweet treats for a truly relaxing afternoon experience.
Caturday Cat Cafe is an essential stop for cat lovers! Situated close to Ratchatewi Skytrain Station, visitors can experience something truly different by relaxing with a cup of coffee or tea while being surrounded by furry felines – well worth your while if you want a unique travel experience away from typical tourist traps!